Be sure to check back regularly to get our latest news updates.
---
Join Us for DVCC's 6th Annual Ride to Remember
6th Annual Ride to Remember:
Join us for our 6th Annual Ride to Remember Bike & Poker Run. The raffle tickets are available at each bar for $10.00 or by calling the Domestic Violence Crisis Center. We changed our date to be more accommodating to those who wanted to join us.
 Our Bike run is on July 8th   at the Landing Bar with registration is from 10:30 am until noon. We are so excited for a VIP opportunity to ride the fun bus! Call the office to purchase your seat ticket today!
 Kickstands up at noon and we will be heading to Burlington to the Idle Hour Bar. Once we have drawn your poker card and are ready to head out we will head over and see Heather and her bartenders at The Hunters Den in Foxholm. Our next stop is the Grano Lakeside Lounge in Grano, then up to see Chad in Mohall at Drinks Inc. We added a new stop is Del Jr's in Glenburn. We wrap up this event at our final stop, the Landing Bar.
 Dinner, grab bags, card auction, and some amazing silent auction items will be waiting for us to arrive.
 Our Raffle drawing is at 8:00 pm. You do not need to be present to win.  This is always a great day and this year is only going to be better!
---
Walk a Mile In Her Shoes
April Is Sexual Assault Awareness Month. On April 29th at Roosevelt Park from 10 am - 2pm we are asking men to come and Walk a Mile in her shoes. Who could forget the fun we had last year? Please mark your Calendars, and join us at Roosevelt Park at Shelter 2.
---
Volunteer of the Year 2015
Our 2015 Volunteer of the year was William Rainey. William gave us over 1600 hours last year alone and was a volunteer for three years. He was from the Minot Air Force Base and assisted in helping clients with Domestic Abuse & Sexual Assaults. We always worry that individuals who have been through these situations may have a hard time trusting in the opposite sex. In one of our trainings, William came in and talked with new volunteers. They asked him if he felt weird or if the situation every made him angry. William said "No", "I just think I am here to help them try to get the help they need." This is the type of person he is. William has moved on to his next assignment with the Air Force with Special Forces. We wish him all the luck in the world. We are always looking for our next best Volunteer. Will it be you!
                    Thanks William Rainey for your Courage 4 Change! You are missed!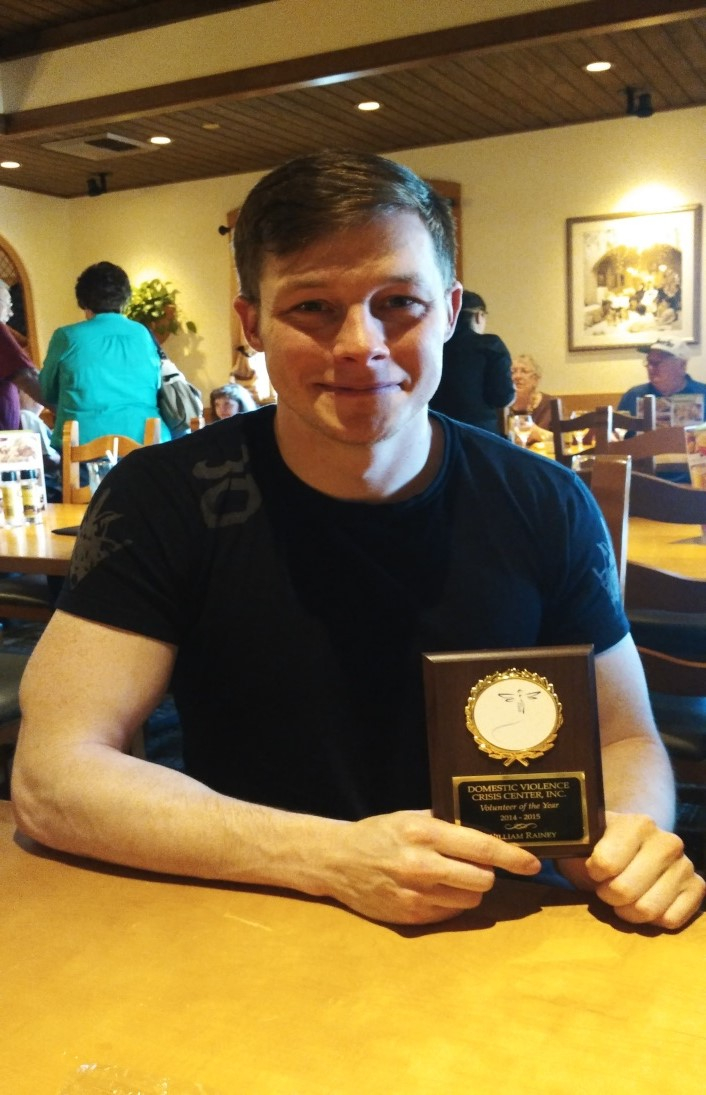 ---
Minot's Day of Giving:
This September, the Domestic Violence Crisis Center celebrated, Magic Day of Giving, with a dozen volunteers from United Community Bank. Thanks to their tireless spirit and hard-working hands, the DVCC welcomes a freshly stained fence that is ready for winter weather. With no fear of dirty fingernails, the volunteers cleared over 30 pounds of rock from the yard; including a boulder that took four women to haul. With the coming together of our Minot community and its people's endless support, the DVCC continues to provide new beginnings for every survivor; their efforts and donations never wasted, but instead fuel the dream of a violence-free future.
---
Domestic Violence Crisis Center (DVCC) is a grant funded organization – local, state and federal grants allow DVCC to provide the essential services, support, emergency shelter and transitional housing to victims of domestic violence, sexual assault, dating violence, stalking and human trafficking in four counties of north central North Dakota. These grants are vital for providing the necessary services to assist victims and children who have endured violence and abuse. Each year grant funding is decreased, making it more difficult for DVCC to sustain the quantity of services for the increasing number of victims. Additional grants must be researched and applications submitted; fundraising efforts increased and charitable donations solicited.
The cutting of grant funds places a burden on the budget of DVCC and that is when we need you most of all. The support of Minot and the surrounding communities is outstanding; the financial support allows DVCC to continue opening the doors for the victims and children who deserve a better life. So, while we continue to write the grants that make services available to all those in need, thank you for your continued financial backing and support – we couldn't do it without all of you.
---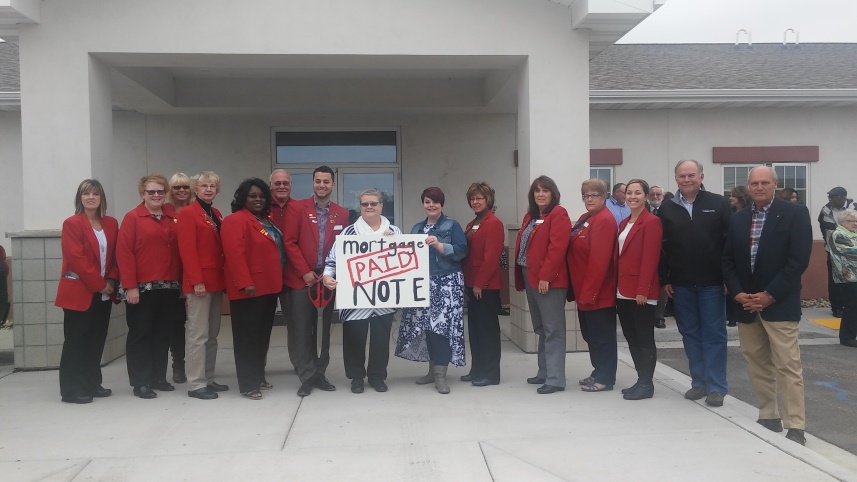 Domestic Violence Crisis Center Meets The Challenge
                For 39 years, the Domestic Violence Crisis Center has been providing increasingly innovative and comprehensive services to victims and their families in our service area including Minot and the four counties served of Ward, Renville, McHenry and Pierce.   DVCC provides services to victims of domestic violence, sexual assault, stalking and trafficking.
               The flood of 2011 was devastating for many, but for those who were in need of DVCC services it was an extreme hardship.  At this time, DVCC was forced to temporarily close its shelter and office and lost the two apartment buildings that were housing families transitioning to their new beginnings away from violence.   DVCC accepted the biggest challenge of their history; to build a campus where all services could be provided at one, centralized location.  This was an innovative idea allowing victims and their families to be safer than when the services were at 4 separate locations scattered throughout the community.  A true continuum of care for victims has been created by DVCC.
                DVCC took on the project to build the "New Beginning" Campus.  While this project was needed, it also required significant funding.  DVCC had many donors from the community as well as several grants to support a large part of the project, but it was still necessary to complete the project to take out a significant debt in the form of a construction loan.  This loan created the largest debt that DVCC had ever faced.  In addition, DVCC continued to provide record numbers of services to victims of domestic violence, sexual assault, stalking and human trafficking.
                DVCC was given a challenge by Roger and Michelle Tollefson and Mark Tollefson in memory of his wife, Lori Tollefson.  This extremely generous family pledged to give a donation of $250,000 each towards the existing construction loan if DVCC raised the remaining balance of $165,000.  The funds would pay off the construction loan in full.  It's through community actions like this that change can actually take place, and this is one of those moments when everyone in the community was given the opportunity to make a difference.
                On October 17, 2016, DVCC celebrated the completion of the Tollefson Challenge.  Enough funds were raised with pledges to pay off the construction loan.  DVCC is grateful to the Tollefson family for providing this wonderful opportunity and to the Minot Community for the financial contributions to meet the challenge.  DVCC is truly blessed by this outpouring of support.  
---