Be sure to check back regularly to get our latest news updates.
The COVID-19 Crisis
To those of you who have donated recently whether it be through time, financial means, or contributing items:  We know that the COVID-19 Crisis has made it exceptionally difficult to give. Your contributions allows us to continue to be available 24/7, 365 days a year when there is a crisis, to provide teletherapy, online support groups and chats, advocacy, and resources to survivors and our community during this difficult time. Thank you! 
---
#GivingTuesdayNow
Domestic Violence Crisis Center (DVCC) is proud to announce our participation in #GivingTuesdayNow. #GivingTuesdayNow is underway, a global day of giving and unity created as an emergency response to the unprecedented need caused by COVID-19. The official date of #GivingTuesdayNow is May 5, 2020, but this fundraising initiative runs throughout most of May. Donations are accepted April 24, 2020 at 10:00 a.m. CDT through May 26, 2020 at 11:59 p.m. CDT. We are asking for your support so we can continue to serve all those experiencing interpersonal and sexual violence while maintaining our commitment to safety, advocacy, and education in amidst of the COVID-19 Crisis. What makes our fundraising efforts especially important is that we are participating in the #Nonprofit Matching-Fund Initiative which, means your dollars are supplemented by available match funds on both national and statewide levels. Help us gain momentum and donate today. We are asking you to give online so you can also share your giving and our commitment to survivors online. The success of this campaign lies not only in your individual monetary donation but in community awareness of our #GivingTuesdayNow campaign.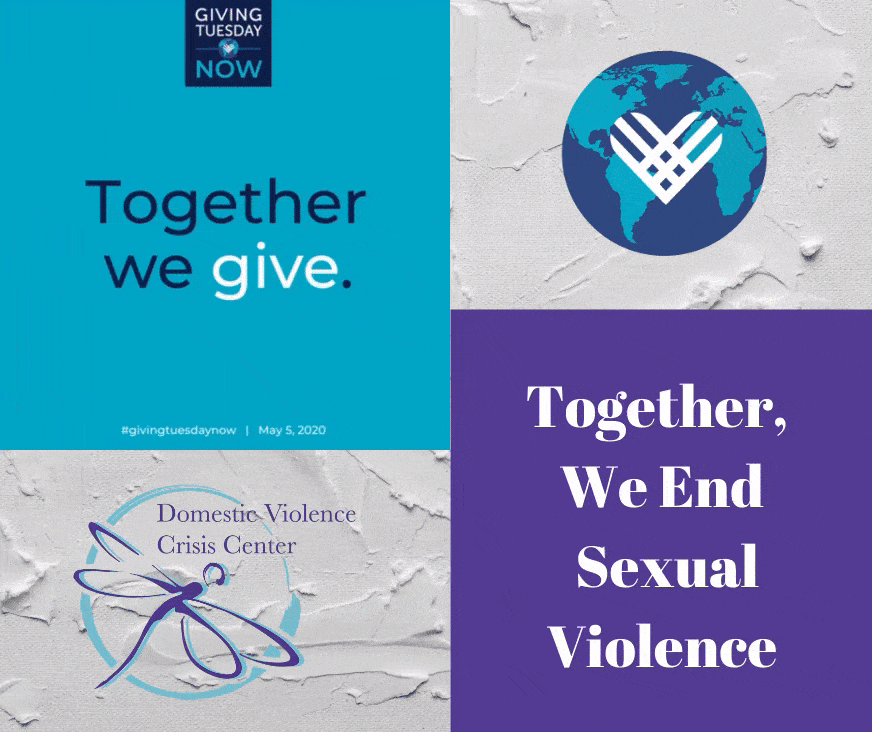 ---
Domestic Violence Crisis Center Meets The Challenge
                For 43 years, the Domestic Violence Crisis Center has been providing increasingly innovative and comprehensive services to victims and their families in our service area including Minot and the four counties served of Ward, Renville, McHenry and Pierce.   DVCC provides services to victims of domestic violence, sexual assault, stalking and trafficking.
               The flood of 2011 was devastating for many, but for those who were in need of DVCC services it was an extreme hardship.  At this time, DVCC was forced to temporarily close its shelter and office and lost the two apartment buildings that were housing families transitioning to their new beginnings away from violence.   DVCC accepted the biggest challenge of their history; to build a campus where all services could be provided at one, centralized location.  This was an innovative idea allowing victims and their families to be safer than when the services were at 4 separate locations scattered throughout the community.  A true continuum of care for victims has been created by DVCC.
                DVCC took on the project to build the "New Beginning" Campus.  While this project was needed, it also required significant funding.  DVCC had many donors from the community as well as several grants to support a large part of the project, but it was still necessary to complete the project to take out a significant debt in the form of a construction loan.  This loan created the largest debt that DVCC had ever faced.  In addition, DVCC continued to provide record numbers of services to victims of domestic violence, sexual assault, stalking and human trafficking.
                DVCC was given a challenge by Roger and Michelle Tollefson and Mark Tollefson in memory of his wife, Lori Tollefson.  This extremely generous family pledged to give a donation of $250,000 each towards the existing construction loan if DVCC raised the remaining balance of $165,000.  The funds would pay off the construction loan in full.  It's through community actions like this that change can actually take place, and this is one of those moments when everyone in the community was given the opportunity to make a difference.
                On October 17, 2016, DVCC celebrated the completion of the Tollefson Challenge.  Enough funds were raised with pledges to pay off the construction loan.  DVCC is grateful to the Tollefson family for providing this wonderful opportunity and to the Minot Community for the financial contributions to meet the challenge.  DVCC is truly blessed by this outpouring of support.  
---
Mentoring a child helps them to see unlimited possibilities for the future, learn something new and most importantly, realize that somebody cares about them.
Independence Day celebrates the United States' sovereignty, culture and freedom. You can be a part of that by taking advantage of these 5 ideas to honor our nation's troops.
New year's resolutions are a great way to focus your year on things other than yourself—to focus on living a more altruistic lifestyle and giving back to others.